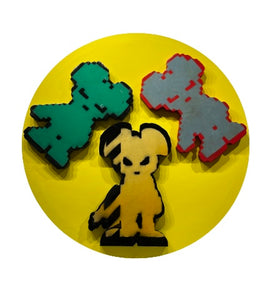 MadVaillan - MmDoomBots 1
Mixed Media on circular canvas
31 1/2 in diameter
80 cm diameter
Madvaillan (b. ? Philippines)( residing in New York)
His works reflect New York City's grimy attitude and day to day grind. His use of popular culture icons such as the likes of MF DOOM, Mickey Mouse and AstroBoy has influenced him to create a series of Villains and anti-heroes, helping to spread the message of awareness and hope. To stay vigilant because the world can be a hostile place.
Hand signed by the Artist. On the back of the work.
This artwork will debut for the first time in a Hong Kong Art Fair Affordable Art Fair Hong Kong: Toyol Gallery ( Booth B04)
Date: 4th August -7 August 2022
Venue : Hong Kong Convention and Exhibition Centre (HKCEC) Hall 3C
SHIPPING DETAILS
1 - 3 BUSINESS DAYS OF SHIPPING & HANDLING
7 - 10 DAYS FOR DELIVERY