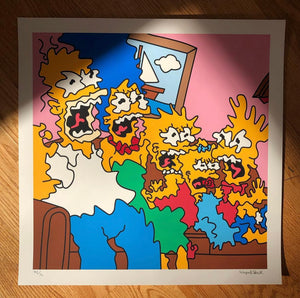 Wizard Skull
"The last scream of 2020"
edition of 70
Dimensions
paper 18 x 18 inches
(45.7 x 45.7 cm) (sheet)
Product info:
(From an original painting, Acrylic on Canvas by WizardSkull)
Immortalising the most famous opening scene, from  every millennials' and zoomers', favourite animated family. 
Wizardskull skilfully evokes nostalgia  in the viewer, but at the same time showcases true mastery via his easily recognisable wiggly style. 
A fan-favorite classic piece, that will easily initiate conversation.
Artist bio:
WIZARDSKULL Is an artist living and working in Brooklyn NY. As a teenager he started skateboarding, and immersed himself in the subculture by designing t-shirts and skateboard graphics, and skateboarding in local shop videos. His artwork has been featured on over 200+ skateboard graphics for companies from Norway, Russia, England, and all over the US and rest of the world. Both he and his art has appeared in numerous skateboard magazines including Thrasher.
Adopting the moniker of Wizard Skull and abandoning freelance design work, he began wheat pasting his art all around New York. One of his most often wheat pastes was "Sexy Ronald", a buff version of Ronald McDonald wearing only underwear with fries popping out of them. People began photographing and sharing images of it on social media which led to the image going viral several times and getting bootlegged, then sold on t-shirts in Thailand.
SHIPPING DETAILS
1 - 3 BUSINESS DAYS OF SHIPPING & HANDLING
7 - 10 DAYS FOR DELIVERY